SHARE
When I think of prospecting, I think of those old gold miners coming to pan for gold. And in business, not much as changed.
Sales people dig for prospects, and then put them through a sieve.
Most prospective customers wash away like sand. But a certain percentage stays in the pan, and are then processed and polished up to become a golden customer. These nuggets are then cashed in as they buy a particular product or service.
The way people buy products are dependent on how much they know about the problem they are trying to solve and the solutions to solve it. If they know everything about the problem and they understand the product they can use to solve the problem, then most of the time they don't need a sales person.
What they need is order fulfillment, that's right, an "order taker". This is the simplest form of a sales person's role. At this point we call this band labeled "Transactional" in the figure below, as commodity selling, see figure 1.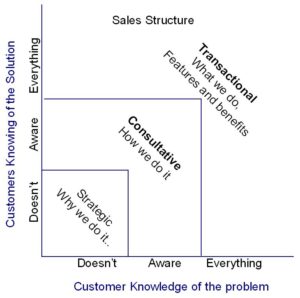 The ratio of marketing and prospecting strategies depends heavily on where the company falls on the chart from figure 1. If you company is a more transactional, then you will do more of your marketing and outreach through the Internet and media. This can be through ads and social media or other advertising modalities.
If however, your company serves people that are aware that they may have a problem and might be aware that a solution could be available, but they don't understand the issues relating to the right products, then this middle band in figure 1 represents a CONSULTATIVE sales professional.
They will need to guide the potential client to the right solution after understanding the problem in high detail.
Marketing to this band is likely more expensive or more difficult, because the client has doubts and fears about the solutions being offered.
Lastly, if your potential client, is NOT aware, or doesn't know he has a problem to fix, he is definitely not looking to fix it!!!
Therefore he probably has NO knowledge or understanding of what your product does. That is why sales professionals exist, to communicate why your company exists and how you contribute.
This is more in the area of being STRATEGIC. For example you have a new cutting edge product coming out into the market that nobody knows they need, just advertising it on social media does not make sense.
People might be interested, but they may not understand what your product does and why they need it. In this case your company would need more people reaching out, educating, and teaching people why they need what you are offering.
Team alignment to the product knowledge:
I have seen companies misunderstand the conversations above. They have a new product and just a couple of sales people whose main role is to just take orders, because they don't understand the customer's knowledge.
This will not work. On the other hand I have seen companies that are transactional or well known waste money and resources on a fleet of salespeople, when they really don't need them.
They need could use a well run Internet marketing plan and a guru to run it.
Sales Gurus: Mike Toney 602.840.0003
Marketing Gurus: Ryan Englin 480.237.3755
Posted by Mike Toney / Posted on 29 Nov